Why Choose Local Life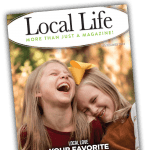 Local Life is the best and largest publication in the area, period. Local Life, through all of its channels, reaches over 109,000 local North Texas residents each month. Each month, Local Life Magazine is mailed to 25,600 households in Burleson (76028), Joshua (76058), and South Fort Worth (76140) as a free publication. You will also find us all over town in waiting rooms, hospitals, fitness centers, salons, and more. Our entire print and digital footprint reaches over 109,000 people every single month!
Full-color magazine on glossy paper
Our magazine is portable. Readers don't have to worry about cutting out coupons because it fits in a purse or a back pocket.
We have easy-to-read articles with Local information to the public. From our monthly event calendar to our restaurant guide, Local Life has quickly become established as a mailbox commodity to many local residents. We also spotlight select businesses each month to keep our neighbors informed.
We follow the seasons and marketing calendar. Each month of Local Life focuses on a certain holiday or specific time of year that has business impact for our clients.
FREE ad design. We'll gladly place any ad your team has created but also have an in-house design team that would love to design a fresh and magnetic ad for you – free of charge!
We are a small business. We are a locally owned business. Our passion is to promote other local businesses to the best of our ability to drive success.
You'll have direct access to the owner(s). Of course, we're probably already on a first-name basis!
At Local Life we simply have two goals: (1) To create an elite marketing tool that effectively drives incremental foot traffic and revenue to our valued business partners. (2) Be fun and easy to work with!