When:
July 8, 2019 – July 12, 2019
all-day
2019-07-08T00:00:00-05:00
2019-07-13T00:00:00-05:00
Where:
First United Methodist Church Joshua
114 Paula Dr Joshua
Texas 76058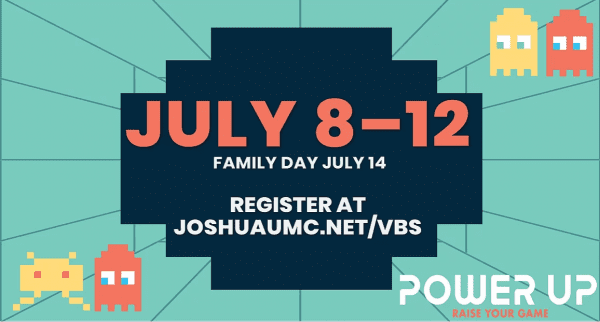 Children (gamers) will begin each day energized at the Worship Rally and get ready to POWER UP and raise their game for Jesus! They'll learn that God's power has given them everything they need to live a godly life.
VBS 2019 includes five (5) action-packed evenings learning about God's power, serving others through outreach missions, and crafts, games, music, and so much more!
Check-in and pre-service fun begins at 5:45pm in the Worship Center.
We are so excited to POWER UP with your kids July 8-12 at Vacation Bible School! Each evening begins with energizing worship and Bible stories then small groups will enjoy crafts, play fun games, enjoy a yummy snack, learn how to serve in mission outreach, and much more! For more information and to register, visit www.joshuaumc.net/vbs.