by Jessica McElroy
Photography by Brooke Mathis
Ciera Bank opened the doors to their Burleson location in January of 2022. In less than a year, Ciera Bank has made such an impact on this community that it has already been voted the Burleson area Local Favorite. Knowing the short local history of this bank, it may come as a bit of a surprise that they have already built such a connection with our community but when you sit down and take a closer look at the history of the bank, as well as their company values and methods of operation – it all begins to make sense.
The Texas founded and grown Ciera Bank traces its lineage all the way back to 1890, where it began as First National Bank in Graham, the First National bank carries the distinction of being one of the first ten chartered banks in Texas. The company would continue to grow and acquire other institutions, ultimately bringing each of these entities all together under one name: Ciera Bank. Ciera Bank to this day is still family owned with 9 locations in North Texas. This family ownership has spanned over three generations, and luckily there is no indication of that slowing down or changing. Ciera Bank's CEO Charlie Powell is a longtime banker and has an extensive family history of service to the community.
The bank has strong roots in the Burleson area, and although the bank initially started in the rural community of Graham, they knew that this model of community focused banking would make a big difference here in Burleson. "We had our eye on expanding to the Burleson area for a few years," said Steve. "We talked about it not just because of our personal connections to this area, but because we felt our values, culture, and goals as a company would be a great fit for this community. I think that is part of our success – it is a good fit. That couldn't be accomplished without the people that we carefully selected to come and be a part of this staff in Burleson. We filled this branch with local residents who really care about their customers, community, and who truly want to be a part of this. We are personally invested in the success of Burleson." One of these carefully selected staff members you may have the pleasure of working with is Banking Loan Officer Kayla Hoffman. She brings a decade of banking experience to the branch and works hard to ensure open communication and an attentiveness to service is always present in her work, with the intent of building secure working relationships with each client.
The idea of a service focused bank being so successful in a world that seems to be continuously looking for the next profit is against the grain to say the least. And yet that success seems to prove that this seemingly abstract approach is exactly what people are looking for. This dialed in focus seems to be what is setting Ciera Bank apart from its competitors. Unlike many national and even some regional banks that are often focused on moving people in and out quickly, Ciera Bank strives to work for their customers, this bank is made up of people with their roots planted right here in this community. Steve adds "We are going to see these people at church. We are going to see them when we make trips to the grocery store, in our neighborhoods, and at Chamber of Commerce events. We are investing in our relationships here through every single conversation and interaction whether that is a personal or a business conversation. These personal investments in our friends, neighbors and customers are ultimately what matter."
Ciera Bank provides a full range of personal and business banking services, including consumer, small business and commercial loans, deposit accounts, online and mobile banking services. They also offer trust management, escrow services, investment, and financial planning. Whatever your financial needs may be, they've got you covered. The Burleson team has decades of real estate experience to draw from with the current leadership of Steve Hockman, President. He alone has over 30 years of banking experience with a majority of that involving real estate. Ciera Bank is very involved in commercial and residential development and construction in the North Texas area, while the bank is substantial enough to accommodate large commercial deals they are also just as dedicated to the small business and consumer transactions. It's no secret that the current real estate market can be challenging to say the least. But when you have a trustworthy person to seek answers and information from, who is not only a fixed part of your local area and understands the intricacies of local issues, but can also draw on decades of experience, it can make all the difference. You can rest easy and be assured that Ciera Bank has the expertise to guide you through this process.
Aside from real estate investments, Ciera Bank also offers loan options for construction, oil-and-gas, equipment or agriculture, as well as consumer loans. "This is where the branches can benefit from each other. We have decades of experience we can tap into within our other Locations. Ciera Bank can pool our resources and knowledge to ensure we are doing everything in our power to help you reach your goals. That is one of the benefits of having multiple locations – you have various levels of expertise by region." In short, it allows for the resources often available at bigger operations without losing the connections and level of personal attentiveness of a community bank. "This consultative approach ensures our clients not only have the right options available to them, but also the right team in place to put ideas into motion."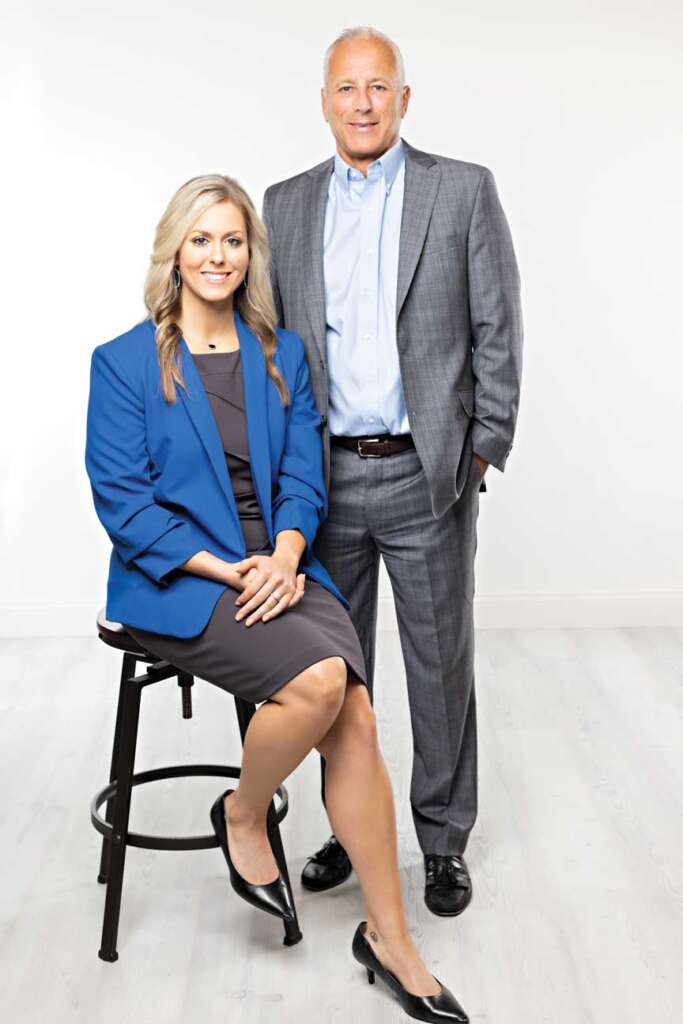 Steve, Kayla, and the Ciera Bank family want to be sure that their customers are educated on their options and making the best decisions in the best possible structure to help them achieve their goals. By maintaining this community focused, relationship method, they can stay both aggressive and agile in their approach to meet the individual goals of each client. This freedom allows them to truly serve the actual needs of their clients and explore all possible paths to get there. They can adjust and structure loan terms or offer other products in a way that may not be done at larger regional and national banks. "Our goal is to not just be your bank, but your ally in this. When your goal is to make smart decisions that are not dependent on a quarterly earnings call, you can make decisions based upon what is good for the community and the individual in front of you long term."
When asked what advice could be offered to clients or potential clients, Steve says that one of the most important things you can do is to develop a secure relationship with your bankers. Whether you find yourself in need of lending or depository options, or to utilize any of the other services Ciera can offer, building a connection with your bank and taking advantage of their knowledge as change comes is how you make the best decisions possible.
Ciera Bank hopes that this relationship-driven approach they are taking as a support role over the traditional banking model will allow them to continue to grow and eventually become the go-to bank in the Burleson area. They aim to change consumer perception of what banking is, to inspire trust through delivery, and continue to pour into the community as they do so. "A community bank without commitment to the community is just another bank. We consider it a privilege and responsibility to give back whenever we can." Their intentions to serve our community can be witnessed not only in their commitment to the client but also in their commitments to various area organizations. Ciera bank is involved in the Burleson Chamber of Commerce, Burleson Higher Education Opportunity Fund, Old Town Business Association, and various personal charitable pursuits. Ciera Bank genuinely wants their clients to be successful and they are willing to lend their time and expertise to help make that a reality. These service-focused approaches help amplify the incredible amount of effort we see poured into our community day in and day out here in Burleson, where there is no shortage of diligent work, good ideas, or desire to help. Ciera Bank is aiming to help people help more people. The butterfly effect of their community driven service will be felt for years to come.
---
Ciera Bank
116 E. Renfro Street
Burleson, TX 76028
T: (682) 291-6690
cierabank.com