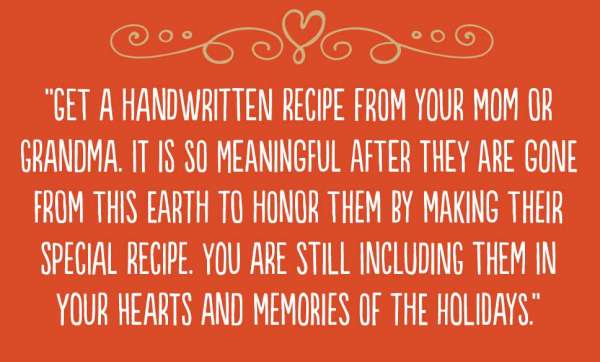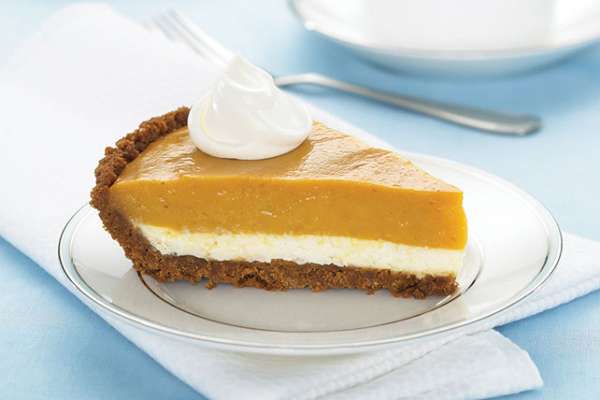 DOUBLE LAYERED PUMPKIN PIE
Kandice Thomason, Texas Health Huguley Hospital
YOU'LL NEED:
1 pkg. (8 oz.) Philadelphia Cream Cheese, softened
1 cup plus 1 Tbsp. milk, divided
1 Tbsp. sugar
1 tub (8 oz.) Cool Whip Whipped Topping, thawed, divided
1 ready-to-use graham cracker crumb crust (6 oz.)
1 can (15 oz.) pumpkin
2 pkg. (3.4 oz. each) Jell-O Vanilla Flavor Instant Pudding
1 tsp. ground cinnamon
1/2 tsp. ground ginger
1/4 tsp. ground cloves
DIRECTIONS:
Beat cream cheese, 1 Tbsp. milk and sugar in large bowl with whisk until blended. Stir in half the Cool Whip. Spread onto bottom of crust.
Whisk remaining milk, pumpkin, dry pudding mixes and spices 2 min. (Mixture will be thick.) Spread over cream cheese layer.
Refrigerate 4 hours or until firm. Serve topped with remaining Cool Whip.
[divider]
Strawberry Nut Bread
(4 regular loafs or 6-8 mini loafs)
Dr. Cynthia English's Mom, Nancy English Edson
YOU'LL NEED:
3 cups of flower
1 tsp baking soda
1 tsp salt
1/4 cup oil
2 cups of frozen sweetened strawberries
1 tbs cinnamon
2 cups of sugar
4 eggs beaten
1 1/4 cup of pecans
DIRECTIONS:
Pre-heat over to 350.
Combine all dry ingredients and set aside.
In a separate bowl, mix oil and strawberries.
Slowing add in pecans while mixing.
Add to dry ingredients and mix well.
Place in greased pans.
Bake till fork comes out clean — about 40 mins but start checking 10 mins before time (especially mini loafs).
Makes 4 regular loafs or 6-8 mini loafs.
[divider]
Cream Cheese Chicken Chili
Adrianne Argumaniz, The Ritz Salon and Spa
YOU'LL NEED:
1 can black beans
1 can corn, undrained
1 can Rotel, undrained
1 package ranch dressing mix
1 tsp cumin
1 Tbsp chili powder
1 tsp onion powder
1 8 oz package light cream cheese
2 chicken breasts
DIRECTIONS:
This is made in the crockpot and only takes about 5 minutes to throw together. Drain and rinse black beans. Place chicken at bottom of pot, then pour out whole can of corn (undrained), Rotel, and black beans. Top with seasonings and ranch mix. Stir together. Place cream cheese on top. Cover with lid and cook on low for 6-8 hours. Stir cream cheese into chili. Use 2 forks to shred chicken. Stir together and serve.
You can place all ingredients in a freezer bag and freeze for a quick freezer meal later.
[divider]
Sweet Potato Casserole
Jolene Clarke, JP & Associates Realtor
YOU'LL NEED:
3 cups cooked sweet potatoes
1/2 cup melted butter
1 cup sugar
2 eggs, beaten
1 teaspoon vanilla
1/3 cup milk
TOPPING:
1/2 cup brown sugar
1/4 cup flour
2 1/2 tablespoon melted butter
1/2 cup chopped nuts
DIRECTIONS:
Mix all ingredients, except topping, together and place in dish.
Combine topping ingredients and sprinkle on sweet potatoes or combine brown sugar flour and nuts and sprinkle on sweet potatoes the drizzle with melted butter.
(Can be refrigerated at this point and baked the next day)
Bake at 350 degrees for 30-35 minutes. Serves 6.
[divider]

Creamed Corn
Julie Green
YOU'LL NEED:
1/3 cup butter or margarine
1/2 cup all-purpose flour
1 cup whipping cream
1 cup milk
1/4 cup sugar
1 tsp salt
Dash white pepper
5 cups frozen corn, thawed
1/4 cup grated Parmesan
DIRECTIONS:
In a saucepan, melt butter over medium heat. Stir in flour until smooth. Gradually add cream, milk, sugar, salt and pepper. Bring to a boil; boil and stir for 2 minutes. Add corn; heat through. Transfer to an ungreased 1 ½ quart broiler proof dish. Sprinkle with the Parmesan cheese. Broil 5 inches from the heat for 3 to 5 minutes or until lightly browned. Transfer to a 350 degree oven for about 20 minutes to assure the dish stays hot.
[divider]
Party Salad
Jordan DeWald's grandmother, Jeanne Criswell
YOU'LL NEED:
1 20 ounce can crushed pineapple
1 regular size lime jello
1 regular size lemon jello
1 cup cottage cheese
¼ tsp. salt
1 cup mayonnaise
½ cup chopped nuts
DIRECTIONS:
Drain and save juice from pineapple. Add enough water to the juice to make 2 cups. Heat it to boiling, dissolve jello, and add salt. Let it cool until it begins to get thick. Add pineapple, cottage cheese, mayonnaise and nuts. Mix all together then refrigerate.