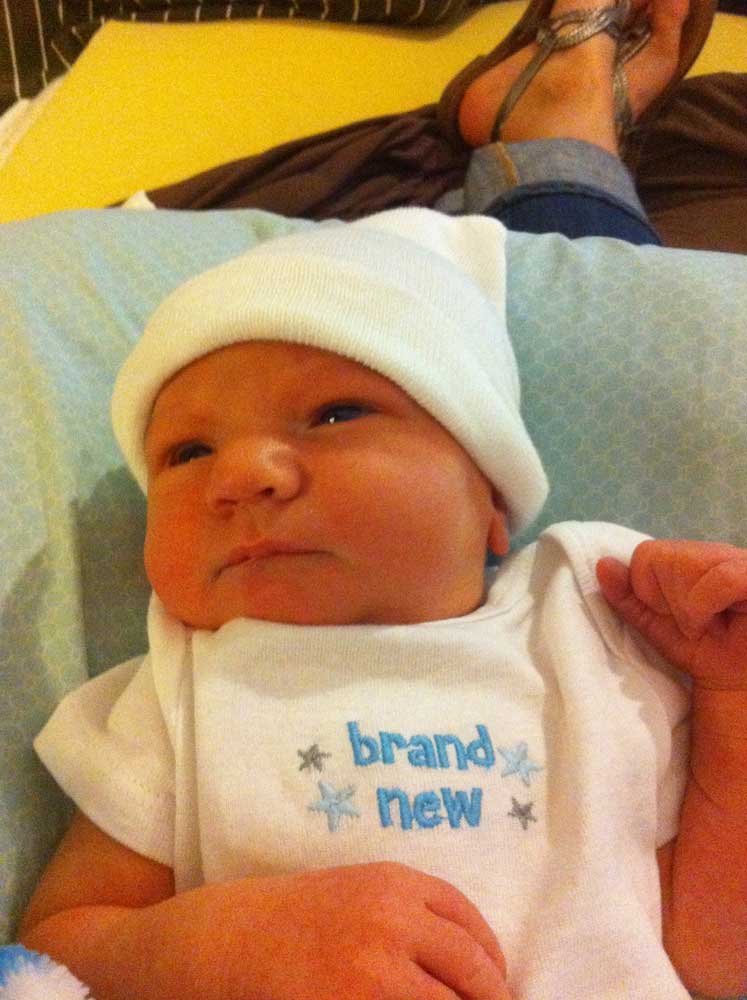 Every May the local community experiences an abundance of kindness, all because of one little boy. Ayden Taylor is the inspiration behind Ayden's Acts of Kindness, a local non-profit organization that has the sole purpose of spreading a seed of kindness that would take root in the community and grow each year.
Ayden was born on May 10, 2012. For seven days he did everything a healthy, over 8 lb newborn baby should do. He ate and slept and filled the hearts of his parents and big sister. On his seventh day, Ayden suddenly passed away without a determined medical reason. There were explanations and guesses, but no answers. Jayme and Anthony Taylor faced the nightmare that few can understand, without a guide for how to get through it.
During their time of grief, Jayme describes being caught off guard by the community of people who rallied around her and Anthony. An ice chest was left on their porch, and constantly filled with meals. Needs were taken care of, words of support and kindness were given, and the Taylors knew in the middle of their pain they were not alone. Social media allowed for their story to be spread quickly, and people they didn't even know were reaching out to the Taylors. Jayme said, that overwhelming support was something they could not ignore.
It was through that time that their eyes were opened to the pain and suffering of other people. All around us, whether it be in the line at the grocery store or someone at work, there are people who have experienced hurt or have unmet needs. After the Taylors experienced the loss of Ayden and the generous kindness of how their community responded, they felt a responsibility to continue that movement.
On Ayden's second birthday, Jayme and Anthony decided to honor Ayden's life with, what they thought would be, a small get together. Jayme asked friends to come to a barbecue at her parents' house and bring gift cards that would be distributed in acts of kindness in Ayden's memory. On that day, thirty-five people showed up and $1500 in gift cards were collected. It was after that response, that Jayme said Ayden's Acts of Kindness was created. $5,000 was collected during the next year through a Gofundme.org account. The next year they decided to hold a benefit concert at Old Texas Brewing Company featuring The Dolan Band. Between donations and silent auction items, $26,000 was raised on that evening. Last year they held the benefit concert again and added a live auction. Another $26,000 was raised on that evening. Their goal this year is to raise even more.
The 2018 Ayden's Acts of Kindness Benefit will be held on April 13 at the Oaks Event Center. The Dolan Band will be playing, and there have already been amazing auction items donated. The event is open to the public. This year they will offer the auction online starting Monday, April 9. They are still accepting donations to the auction and are specifically looking for some more businesses to donate items or services to be auctioned. Visit their Facebook page at facebook.com/Aydensactsofkindness for the link to the event, and further updates.
May 5 will be the day for Ayden's Acts of Kindness. Anyone in the community is invited to meet at Pathway Church and participate in the distribution of the gifts of kindness. All through the year, people can submit needs they know of to aydensacts@gmail.com. Through these nominations, the organization has been able to meet the needs of complete strangers. Examples of what they have been able to do include paying medical bills, assisting families who have lost jobs and paying for funerals for children. They do not have requirements that must be met to receive an act of kindness, and the nominating person stays anonymous. Along with meeting specific needs, the group will also give out gift cards as random acts of kindness. All the gift cards and met needs are funded through the benefit concert and auction. Each gift card has a note explaining why Ayden's Acts of Kindness exists and encouraging them to pass the kindness on when given the opportunity.
Jayme and Anthony have beautifully carried on Ayden's legacy. Because of the life of this little boy, lives of people in this community have been changed.