From time to time, we want to know what you think. This month, we asked for your favorite Local home services businesses. You voted and told us. Here are the top nomination recipients and Local Life favorites.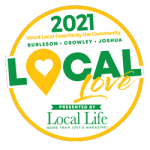 Roofing Company
1. Lone Star Roofing and Contracting
2. Honey Bees Roofing & Solar
3. Select Construction
Plumbing
1. Fix It Right Plumbing
2. Big Star Plumbing
3. P & P Plumbing
General Contracting
1. C & L Services
2. Select Construction
3. Big Tex Renovations
Pest Control
1. Alpha & Omega Pest Control
Landscaping
1. All American Services Lawncare
2. Tim Harkrider
Windows
1. AES Glass and Mirror
Cleaning
1. Blue Line Cleaning
Fencing
1. Barbry Fence Solutions
2. Trophy First Fencing & Construction LLC.
3. Select Construction
Flooring
1. The Floor Barn
HVAC
1. Burleson Air & Heat Systems Inc.
2. Airwaves Air Conditioning & Heating Inc.
3. Air Clinic Air Conditioning & Heating Inc.
Counters
1. APOS Floor Granite Countertops
Security
1. ProTech Security
2. Hawk Security Services