"Always look for the helpers," she'd tell me. "There's always someone who is trying to help.' I did, and I came to see that the world is full of doctors and nurses, police and firemen, volunteers, neighbors and friends who are ready to jump in to help when things go wrong." (Fred Rogers)
These simple, yet profound, words often come to my mind when the world is uncertain, unfamiliar, or scary. Perhaps because I have known this to be true through my own experiences and it brings a sense of comfort to recall the goodness of people. History books will record this time in our lives when the world became uncertain, unfamiliar, or scary. I want to make sure the stories of the helpers are also recorded.
The circumstances surrounding the outbreak of Covid-19, and the associated closings, has affected the entire world. No one is left untouched. Anyone could contract the virus, the economic disruption could challenge rich or poor, and every person had their lives disrupted in some way. One day this time will just be a memory, and we have a choice of how we remember it and are changed by it. You could look back at this time and only see it through the lens of anger, despair, or anxiety. You could choose to recall the crashing stock market, the political fighting, the fear, or the losses of jobs. Or you could look back at and recall the helpers. You can remember that despite how scary or traumatic it was, you saw goodness in people. If you live in my community, the helpers were easy to find. Here are some of their stories.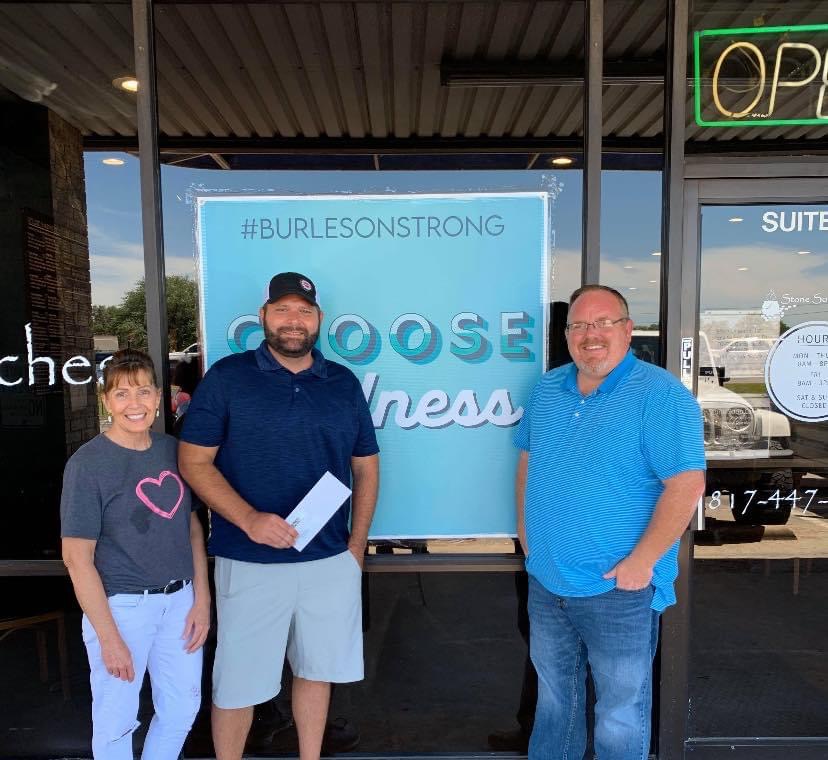 The Helpers have given
The needs in our community became apparent early as the virus threatened to spread and social distancing orders were issued. The offers of help came just as quickly, often before anyone could even ask. Friends and neighbors began reaching out to the people who couldn't leave their house due to underlying conditions, offering to run errands. People have made many posts with offers of financial assistance with groceries and necessities. Friends provided lunches for kids, Easter dinners, and surprise blessings.
Local restaurants have donated countless meals to families in need, first responders, and more. Lone Star Bar and Grill held a week called "Lone Star Gives Back," where each day they gave a free meal to a specific group. Rio Mambo and The Catch both took nominations from the community for families they could bless with meals. Bread and Butter, who opened up just as the social distancing closures happened, donated brunch to the staff at Huguley Hospital. These are just some examples of the restaurants who supplied, many under the radar.
As the social distancing orders were going into effect, the City of Burleson met with local business leaders to form a task force to help small businesses in the community. One of the earliest decisions was the creation of btxgiftcards.com. The community has raised almost $30,000 in the six weeks since its release, all through gift card sales for nearly one hundred businesses. These sales have allowed these businesses to receive revenue even as their doors were closed. The generosity didn't stop there though. Several business leaders used the opportunity to encourage participation by matching funds for local charities and have raised over $15,000 for them as of April 30. Local businesses, including Local Life, The Garage, Bransom Homes, and The Jonathan Cook Team, bought gift cards to use for giveaways.
The local businesses were generous to the community and each other. Burleson Electric, Pick West Realty, and Lone Star Roofing and Contracting offered up gift cards to local restaurants. The businesses that were considered essential stepped in to help the businesses that had to close during the initial shutdown. Then as the first phase happened of the reopening plan for Texas, the places that were allowed to open stepped up to help the businesses and workers that had to remain closed. Our Place led the way by offering meals to employees of businesses who couldn't open up yet, and Old Texas Brewing Company followed suit. Alex Philips, Economic Development Manager for the City of Burleson, shared with me that he saw businesses that are competitors working together to make sure they were both succeeding with curbside services.
Churches have been able to meet needs thanks to the generosity of their members and others in the community. Charities have benefited from generous supporters. Pathway Church, Alsbury Baptist Church, Open Door Church and First Church of the Nazarene are some of the locations that hold regular food distributions. These and other churches are able to help with benevolence requests because other people have been generous with their gifts. The Children's Advocacy Center put out a request for specific donations and the community met their needs right away, allowing them to continue their services to families. Harvest House has been able to provide their needed assistance in the city because of continued donations.
There is a committed effort to support local businesses. Though they had limited income, the community has been generous in supporting the small, local businesses. Groups have popped up on social media to share ways that people could support local businesses. People are buying from shops just to help the store owner. When they can't spend money, people have shared positive posts on social media about local businesses and encouraged their friends to patronize businesses.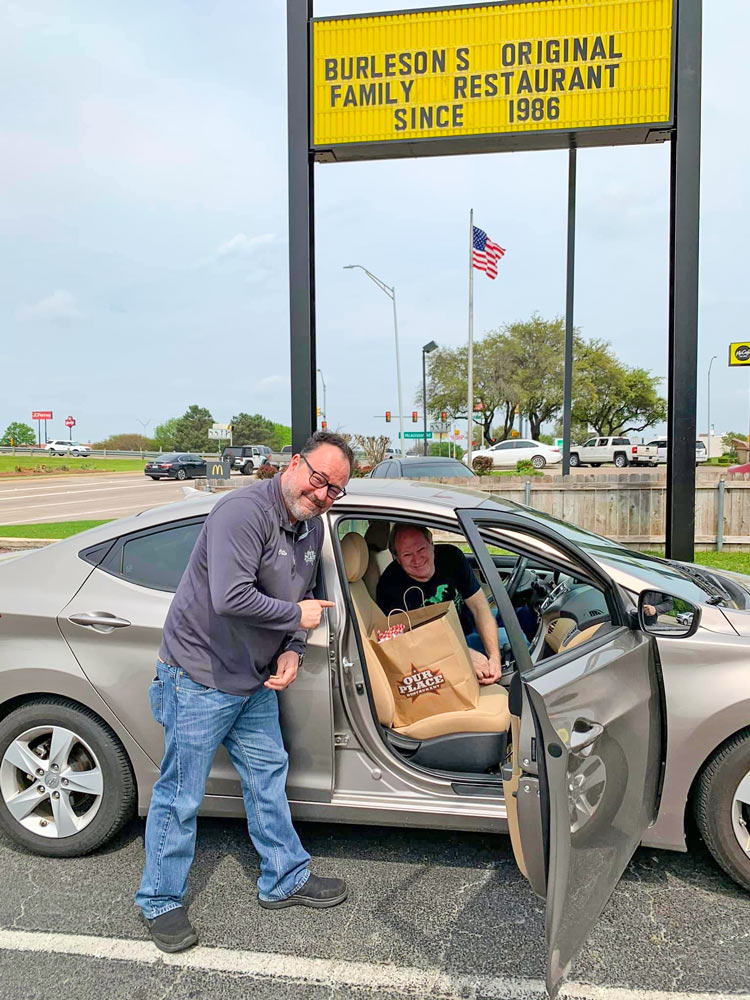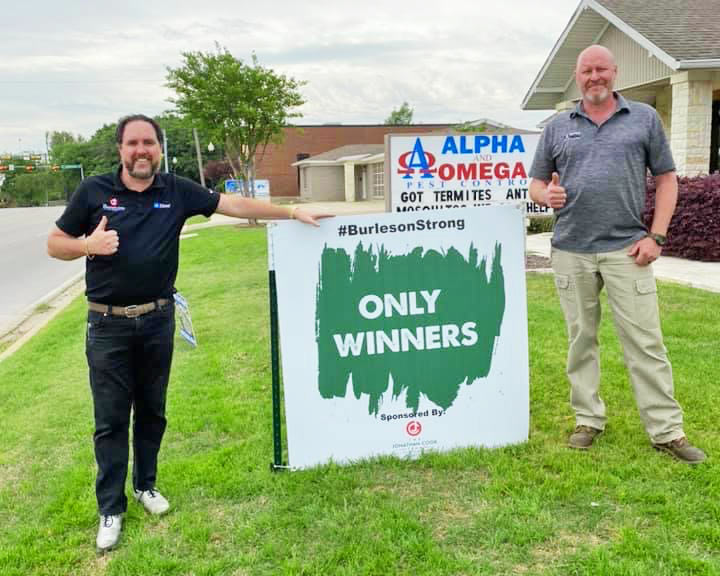 The Helpers have encouraged
One of the benefits of everyone experiencing this strange time is a concern for other people's situations. Kindness overshadowed selfishness, and simple gestures brought smiles to a dark time.
A wave from neighbors, a sidewalk decorated with chalk messages, and "Bear Hunts" for kids as they go on walks lifted spirits. A drive through the neighborhood brought sights of families out on walks, playing baseball in their yard, and spending time with neighbors. Families have had a chance to connect in ways impossible with the previously busy schedules.
As people drive through Burleson, they can't go far without seeing an uplifting message. Dynamic Screen Printing started a movement of positive message banners displayed throughout Burleson, and through the Economic Development Partnership, other businesses followed. Now there are over one hundred signs around town with messages like "Hope Matters" and "Find Good in Everything, Everyday."
The Art Barn and Beautiful Evolutions decorated their windows with colorful messages of support and hope. Countless businesses shared messages of support for each other. The phrase "Burleson Strong" made its way through social media posts and t-shirts. TNT Designs helped local businesses to raise money by shirt sales and many businesses have chosen to use their design to have encouraging messages. Local artists, like Andrew Dolan, have held streamed concerts to bring entertainment to people and often collecting donations for charities.
Schools found ways to continue to connect with students. Several schools have held a drive-by parade where the staff drove through the neighborhood of their students. Families waited in their driveways with signs, waving to their teachers. Schools had theme days to make the learning time fun. They have held virtual field trips, interactive hangouts with topics that interested their age group, and other creative activities.
The Helpers are everywhere
Mr. Rogers described the helpers as "doctors and nurses, police and firemen, volunteers, neighbors and friends."
Medical professionals are working tirelessly to serve the community. They are being called upon to work in situations they have never faced before and performing new roles. Despite all of this, the kindness and care have not stopped. Nurses have gone above and beyond. I heard the story of one who let a mother talk to her son over the phone while he was in ICU. Lab professionals, covered in protective gear, put a picture of their smiling face outside their coverings so people getting tested still see the person behind the masks. The staff members have restructured the check-in procedures to limit contact.
City officials have worked tirelessly to communicate with their community as they made tough decisions. They were also the first to step in to help, well beyond their written job descriptions. The Economic Development Corporation of the City of Burleson has been purchasing meals from local restaurants for six weeks now, totaling over 4000 meals for city personnel, including all first responders seven days a week since the crisis has started. Both Burleson and Crowley have arranged a partnership with local businesses, giving financial support of up to $5,000 to one hundred local businesses each. The Burleson arrangement also drove income to other local businesses through the program, helping them to make it through this stressful time.
Teachers, administrators, and other school district leaders have been innovative and worked tirelessly to help the students continue to learn, provide needed lunches for kids, and meet students' needs. They have been heroes in our community.
People used their talents to meet needs wherever they saw one arise. People who could sew made masks and others coordinated the mask making and distribution for thousands. Others volunteered hours with food distribution. People and groups with a social media presence helped spread the needed information. Well wishes, surprise gifts, and positive messages have gone a long way to encourage those working long hours.
People everywhere have sacrificed for the greater good. By staying at home, closing businesses, and canceling plans, they have protected their neighbor and kept our medical system from being overwhelmed.
As social distancing orders are changing, I want to encourage you not just to go back to normal. Continue to support your local businesses because they have always been the first to support our community. Don't give up the priceless time with your family. Continue to reach out to people in need and look for ways to help. Find ways to spread messages of kindness and hope. There are too many stories to fit into this space and there are many I will never know. You know them though, so I encourage you to share about the helpers you see. Do not forget the stories of the helpers and make some of your own.