by Jordan DeWald
Why does nature matter to a suburban area? Most people can guess that it adds to the beautification of a city and promotes a healthy air quality. That just touches the surface of what a healthy and maintained ecosystem can offer. It promotes a healthier lifestyle by impacting stress levels and cognitive matters and improved breathing, as well as promoting outdoor physical activity and increased social interaction. There is an economic benefit to saving on energy usage through well-placed trees and landscaping, including a reduction in air pollution, availability of shade, and reduced stormwater runoff. Property value and city appeal increase with the inclusion of plants and trees.
As a city grows, it is necessary to have people who are knowledgeable and passionate about the natural resources surrounding the land. The City of Burleson has the benefit of having its own chapter of Keep America Beautiful and Keep Texas Beautiful, a non-profit organization called Keep Burleson Beautiful. This is an award-winning organization that serves the city through education, providing activities and events that encourage care for the environment, beautification projects, litter clean up, and assisting in the management of the city's natural resources. Keep Burleson Beautiful works closely with the City of Burleson in particular with the Parks and Recreation and Environmental Services departments. They were recently recognized by Keep America Beautiful with its 2020 President's Circle Award. "The President's Circle Award recognizes exemplary performance by certified affiliates of Keep America Beautiful in creating clean, green, and beautiful communities." In addition, Keep Texas Beautiful presented Keep Burleson Beautiful with an award of excellence for their score in their submission to the 2021 Governor's Community Achievement Awards, which they placed 3rd for their population category.
Katelyn Reeves is a Texas Master Naturalist and the president of Keep Burleson Beautiful. Reeves describes her role as a Texas Master Naturalist, which is a part of the volunteer branch under Texas Parks and Wildlife, as being someone who provides education to the public and is a bridge between the public and the scientists and park interpreters involved with Texas Parks and Wildlife. She is a part of a team that does this for Burleson and kindly provided the information for this article.
Reeves absolute love for nature, and passion for sharing it with others, is evident. She says "As Burleson grows, creating and preserving areas so that everyone, especially kids, has access to the natural world is part of my personal mission." Reeves loves to introduce people to what Burleson has to offer. Burleson's location allows for it to have a diverse ecosystem. Reeves explains that it is a kind of a transition zone from the Cross Timbers ecoregion to the Blackland Prairie ecoregion. She points out that you can see examples of both in our great parks system, with Oak Valley park being Cross Timbers and Coyote Loop at Wakefield being a part of Blackland Prairie.
As with the rest of the country in 2020, those involved with Keep Burleson Beautiful had to restructure their work. Along with virtual education opportunities, the team used their time for a lot of planning. The community is getting to see the results of some of that planning.
Bailey Lake Pocket Prairie
Have you noticed an area of land on the north part of Bailey Lake, that looks unique to the rest of the area? As you pass where the prairie dogs live, you can see the work of Keep Burleson Beautiful called a Pocket Prairie. It represents the Blackland ecosystem and is a designated area that includes native plants. Reeves and other Master Naturalists worked together to research how to best utilize this piece of land, seeded it with native species, and removed non-native species. They maintain this area to use it as an outdoor classroom with interpretive signage. They will host classes on areas of public interest, such as wildflowers and pollinators.
On an outdoor excursion during the spring of 2020, Reeves came upon a treasure trove of native prairie plants. She was on a walk and happened upon an area being cleared for development that had these plants within it, including yarrow, milkweed, and native grasses. Her expertise allowed her to identify those plants and opened the door for a conversation with the developer. What resulted was the developer giving permission for a team to do a "prairie rescue." They recovered the plants and a team took care of them in pots for about a year. The access to the plants saved the organization a significant amount of money. These native prairie plants found a new home on April 24, 2021, when the team planted them in the Pocket Prairie. In addition to those plants, milkweeds were also planted. They were planted for a specific purpose, to provide the first monarch waystation in Burleson.
Monarch Waystation
Fourth-generation monarchs migrate through what is referred to as the Texas Tunnel, on their way to Mexico, every fall. To make the flight to and from their destination, monarchs need protected spaces that provide the necessary amount of nectar to sustain them. Milkweeds are unique in their ability to provide both the necessary nectar as well as able to provide nutrition for caterpillars so that the species continues. These blooming flowers are planted near trees that allow for shelter at night for the traveling monarchs.
Burleson now has one of those protected spaces, referred to as a monarch waystation. Reeves shares that the Keep Burleson Beautiful team received a grant through monarchwatch.org after meeting the necessary requirements and gaining certifications. The team planted milkweeds in the Pocket Prairie on April 24 and the community will get the benefit of having the monarchs travel through, in addition to other species that rely on these pollinators.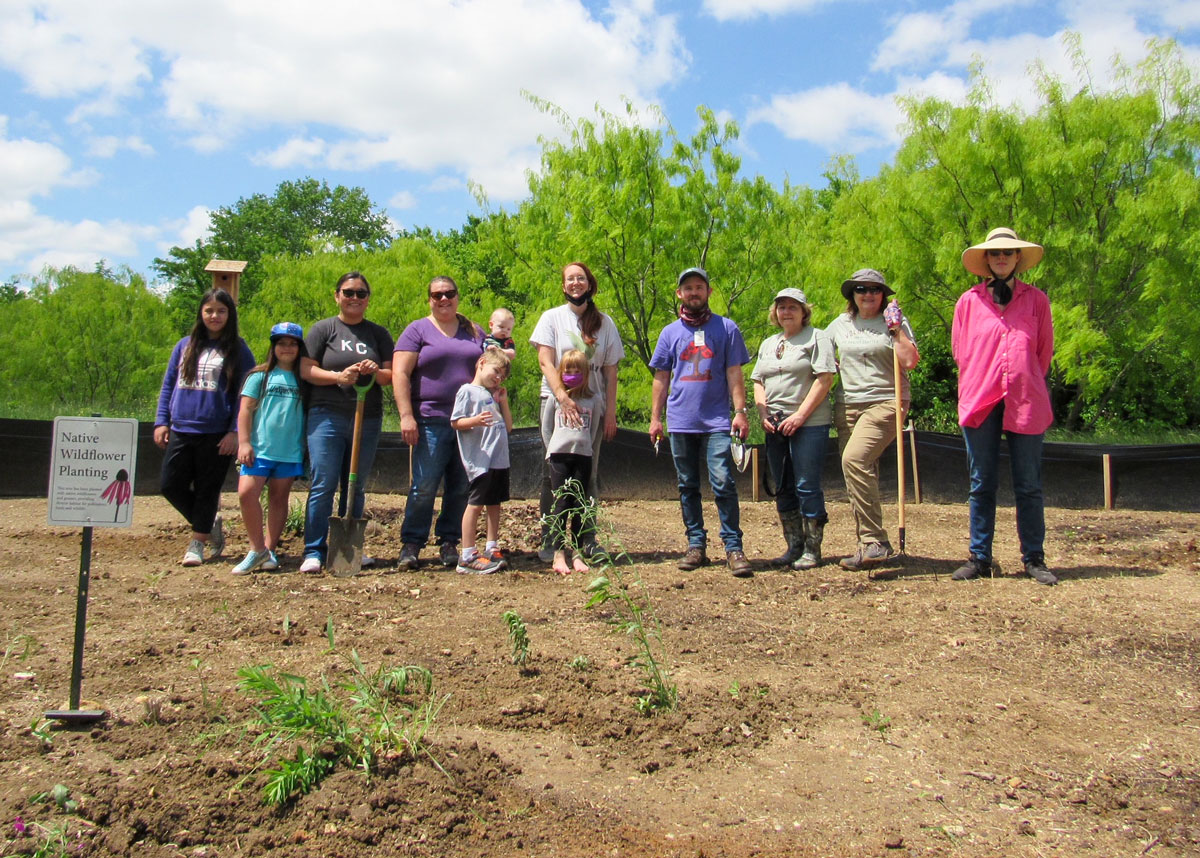 Community Involvement
Do you want to learn more and help the organization in its work? Keep Burleson Beautiful is active in the Burleson community and you can see their touch all over the town. They love to support butterfly and pollinator projects around the city, like the butterfly garden at Russell Farms. They have been able to increase their programming in the spring of 2021, including nature walks and trash pick-up events. They partner with the Burleson Public Library to do activities with kids, including a recent day for kids to make garden cartons and seed balls. Following the Keep Burleson Beautiful Facebook page will notify you of future events.
From April 30 to May 3, Burleson is participating in the City Nature Challenge through iNaturalist, kicking off on April 30 at an event in Oak Valley. This is a giant citizen science project where people are encouraged to take a picture of a plant species in a public space or yard. The plant will be identified on the app and then experts will come by to confirm the identification. All of the data will get used in actual research to help shape policy and management plans for parks.
You can also get involved on your own property. The plants you choose can benefit the entire community. 95% of land in Texas is privately owned, so there is only so much that city and public land can do to help with native plants. Local Master Gardeners and the Native Plant Society of Texas are excellent resources for advice on beautification projects, as plant selection is important. Choosing pollinators and native Texas plants that are water-conserving and are noninvasive does more than beautify your own property. It has far-reaching benefits. A helpful resource is Texan by Nature, an organization that connects community members and businesses through collaborative conservation.
Katelyn Reeves ended our interview by sharing a quote from a man she calls her newest conservation hero, Jaime Gonzalez. "Nature is not a luxury, it is a must-have. Every child should have access to AWE- the awe of nature." Take some time to look around Burleson and you will get to see some unique and inspiring ways that community members have given us access to that awe.