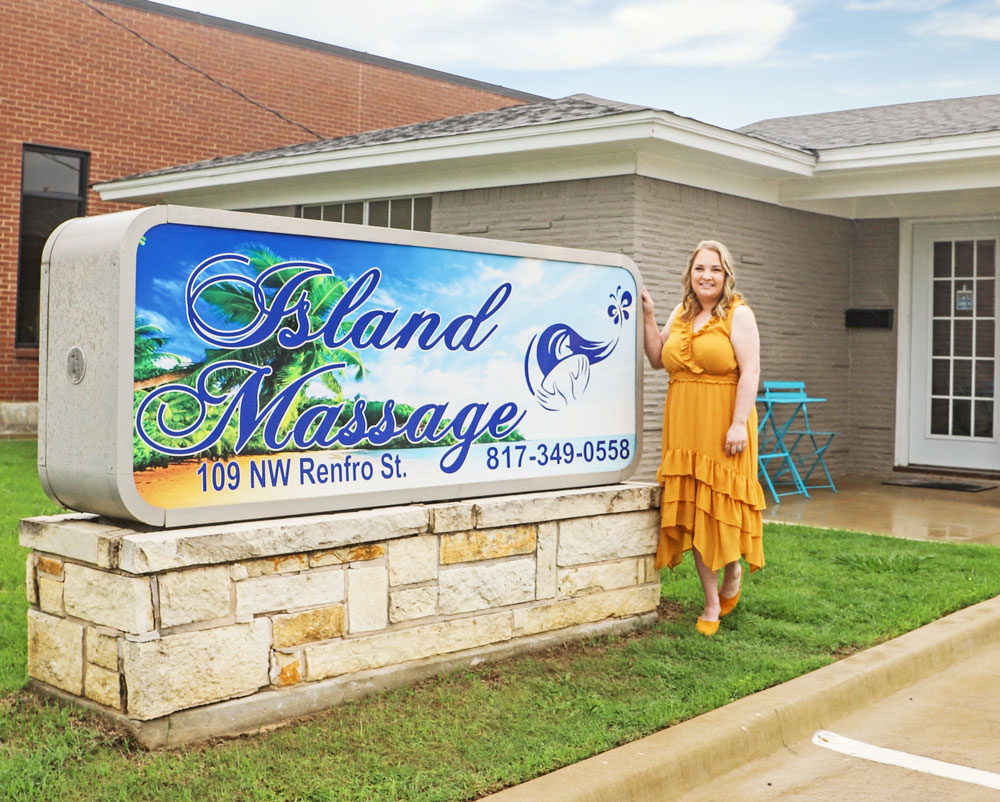 When you walk into Island Massage you walk into a place of rest and rejuvenation, and a retreat from the stress of life. The sense of peace you'd get from a tropical vacation welcomes you. The hope is that you leave better than you came, refreshed to face the next challenge or task. This oasis is what Sally Lorenzo set out to create as a small business owner, which is all a part of her mission to serve people and share hope.
Sally exudes joy and knows how to provide a place of healing. Without knowing her story, one might think that Sally has lived a carefree life without challenges. But Sally is able to create a place of peace and rest because she knows how badly she needed a place like that when her life was anything but peaceful and safe. To understand who Sally is now, and the heart behind Island Massage, you have to know her full story.
Sally's story begins in a house of poverty in a dangerous part of Fort Worth. There was violence and chaos happening in the bar across the street from her house, but that did not compare to the violence and chaos happening within the walls of her home. Sally was the second oldest of five children. Her parents were deeply committed to their church and pastor, which Sally considers to be more of a cult than a church. The church had many strict rules and the pastor was controlling. Out of desire to worship God and not knowing any better, her parents worshiped the pastor and dedicated their whole lives to serve the church. Her father earned a decent living but the family lived in poverty because of their willingness to do anything for the church including paying for a truck that was one of the multiple vehicles that belonged to the pastor. They held the pastor in such high regard that they chose the names of their children based on what the preacher approved of.
Both at home and in her church, Sally did not feel safe or loved. They were at the church whenever possible and when they weren't, the kids went to the school at the church. If Sally were to make any mistake during the day, it was reported to the parents. This is when Sally's parents started physically abusing her. She would find punishment at both the school and her home. The pastor taught that a child's discipline should involve corporeal punishment and the parents followed that instruction to an extreme. So extreme, that her mother would have blisters on her hands after administering a punishment. The rules of the church required the female members to wear long skirts and sleeves, so the beatings were not apparent to anyone on the outside.
At age seven, Sally remembers a particular beating that became a transformative moment for the rest of her life. She doesn't remember what she did wrong at school that day but remembers seeing her teacher talking to her parents that evening and just knew that she was in trouble. Their house was in close proximity to neighbors, so the parents had to make sure the kids' yells of pain weren't heard by anyone else. That night, similar to many other nights, her father held his hand over her mouth and nose while her mother administered the beating. Sally began to feel the life passing out of her as she suffocated at the hands of her father. To this day she remembers telling God she was ready to die and was at peace with it. But God had other plans.
The physical and verbal abuse was only the beginning. It continued to spiral to sexual abuse. At the age of seven her father began to sexually abuse her, and that lasted for six years. Despite it all, Sally took comfort in disassociating from her reality and creating fantasies of the life she dreamed of. The church school closed during that time and Sally went to a public middle school. It was there that she confided about the abuse to a friend, who was also a neighbor. Fortunately, that ended the abuse being inflicted on Sally. However, this didn't end for her siblings. She learned of the sexual abuse that started to happen to one of her younger sisters. Seeking to protect her siblings from the pain she suffered countless nights, she fearfully stood up to her father. This courageous act, that jeopardized her life, had no effect on her father's actions. The abuse continued until he was caught in the act by their mother and unsuccessfully sought help from the pastor. When his pastor said he couldn't help him, he went to a counselor. By law, the counselor was required to report the abuse to the authorities and Sally's father was arrested. Sally testified of the years of abuse and her dad was found guilty and given five life sentences. The abuse ended with his sentence, but the struggles in life did not. Because Sally's father was the sole provider, her mother struggled to financially make ends meet. Sally ended up leaving public school at age fourteen so that she could help her mother earn money by working at a fast-food restaurant. A life filled with terror and hardships of that magnitude would defeat many people. Sally refused to let that be the end of her story though.
In search of love and family, she married a boy she met at church when she was seventeen. Because she was desperate to escape her childhood home, she settled for him. The church didn't allow time alone with each other so the only times they talked were chaperoned. Because of that, they fell in love with an idea of each other. After they married, Sally became connected with the city of Burleson, reconciling with extended family members, particularly her grandmother, who had become estranged from Sally's family as her parents became more involved with the church in her childhood. During her marriage, she gave birth to three daughters. As time went on her and her now ex-husband grew older, they realized they weren't meant for each other. After eight years of struggling to make the relationship work for the sake of keeping her family together, she became a single mom. Her daughters became her motivation, and she found purpose in being a strong example and provider for them.
At 26, when Sally met her second husband, she finally had a home filled with the happiness and peace she searched for her whole life. Before they married he took her to Hawaii, a place that he called home. After a childhood filled with fantasies, she became emotional when she stepped onto the beautiful island, realizing this was her reality. As she stood in the sand, tears formed in her eyes. She thought of her childhood and how most children that grew up the way she did might never experience a place like Hawaii. The feeling she felt there is what she wanted to recreate with Island Massage. She wanted it to be a place where someone could escape; a paradise. She dreamed of a place where anybody, in any walk of life, would be welcomed and could afford a good massage. This is the purpose behind Island Massage.
Thus begins the story of Island Massage, in Burleson, Texas. Sally opened Island Massage in February of 2017, ten years after that moment on the beach. Going back to her roots she started a business in the place where she reconciled with her grandma. A family member helped her find a place to rent. This led to a meeting regarding the property on Renfro Street that houses Island Massage today. The initial setup costs were beyond anything Sally could afford but God provided her with enough money to start. Although Island Massage began with frugal beginnings, Sally remained committed to using the business to serve God and help people. That philosophy continues to be at the forefront of Island Massage today and all of the employees operate under it. Sally took the comfort she experienced from God and turned it into a life where she can extend that comfort to others. She held onto the belief that she survived her childhood for a purpose and clung to the promise she heard from God as a young girl that "everything was going to be alright." She believes what the Bible teaches in 2 Corinthians 1:3-4: "Praise be to the God and Father of our Lord Jesus Christ, the Father of compassion and the God of all comfort, who comforts us in all our troubles, so that we can comfort those in any trouble with the comfort we ourselves receive from God."
With the desire to fully understand what her employees (therapists) were trained to do, she enrolled in the massage therapy program at Tarrant Community College. During her enrollment, she would manage the spa as the receptionist all day and then go to classes at night. Massage Therapy students are required to have practicum hours where they practice the massage techniques. One day during class, a professor she respected made the comment that she was "a natural healer." It was during that time that she learned of her God-given gift for helping others heal. That encouragement, along with the joy she found in bringing comfort and relief to clients, motivated her to obtain her massage license. Sally believes that "those who have been hurt the most have the greatest ability to heal."
From frugal beginnings when she had one part-time massage therapist to four years later having a staff of 15 (and growing), Sally is a self-made businesswoman. With little education but constant dedication, creativity, and hard work, she has learned most of her business techniques through trial and error. Island Massage has survived challenges that even seasoned business owners struggled through, including being closed for more than two months during the COVID-19 shutdowns in 2020.
Staying true to her purpose, Sally has remained committed to making Island Massage a place where anyone can get an affordable massage. As part of this commitment, there is an Island Club for a monthly fee of $59 which includes a full 60-minute massage, a free add-on, discounts for other services and products, and a special gift from Sally every month. This membership allows people to experience healing and therapy at a reasonable cost. Island Massage also extends this commitment by proudly giving a 10% discount off of Island Club to members of the military as well as members of the fire and police department.
The first goal is to meet the needs of the client. Sally and the family that makes up the Island Massage team believe in the philosophy to always give their client more than the business takes. One of her favorite parts of being a business owner is having the freedom to offer care to clients based on their needs, not what a corporate office allows. Sally's work ethic and tenacity has opened up endless opportunities for her. She has recently been invited to be a part of the advisory board for the massage therapy program at TCC, so she will be able to give back.
The circumstances of her young life could have broken Sally, but she chose to be shaped in a positive way by them. Sally wants to make a lasting difference to young girls and women currently in or coming out of abusive situations. Although it is painful, she is willing to share her story. In pursuit of wanting to help and inspire other women, she is currently working on writing a book to share her story. Below is an excerpt from her story:
"Here I stand, a woman at the crossroads, just like I've stood all my life. My life happened in between these streets. And today, my life is still built upon these crossroads. Between despair and hope. Bitterness and forgiveness. Hate and love. Being a victim or a victor.
"This is not a sob story. My story is full of experiences that are devastating, heartbreaking, painful, and tragic. Everything that happened to me could have crushed my soul and left my spirit in pieces. But still, this is not a sad story. This is a story of triumph. This is a story of survival. Believe it or not, this is even a story of love—love from God. This is a story of a girl forever destined to return to these crossroads."