by Jessica McElroy
Photos by Brooke Mathis: Beautiful Evolutions Photography
"We fell in love with Burleson" Rex Benson shared about the experience of scouting for a new location. "It's hard not to, it's such a great community.
"We began scouting for a new location in early 2017 and immediately knew Burleson would be a great fit. However, as much as I tried to plan for every contingency, I never imagined anything remotely close to Covid-19 in our business plan."
If you are familiar with the Ol' South Pancake House brand you may know them from their Ft. Worth location, where they are open 24 hours and have spent multiple generations building a solid and loyal customer base. They opened the doors to their Burleson location in January of 2021, smack dab in the middle of what was – without a shadow of a doubt – the worst year historically for businesses in the hospitality industry. "Ol' South is a place where people and families come together. A location where they meet and break bread in one place. In many ways, that is the antithesis of what Covid was. The last couple of years have been actively working against the Ol' South way, and we opened a new location in the midst of that. I'll be the first to admit that it has certainly not been all roses."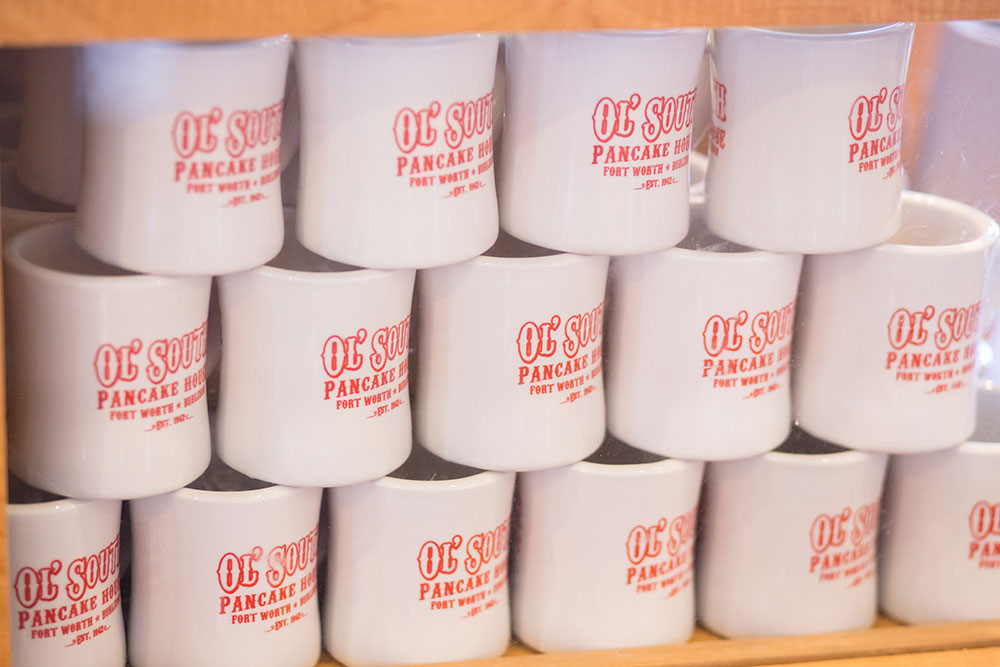 Rex was born into the family business, and can remember performing hosting duties as a toddler and learning how to work as a cashier as early as five years old. He graduated from Texas Tech and dabbled in business and real estate before taking over the family business from a cousin in 2007. He has since worked tirelessly to continue operating the Ol' South brand in a way that his family would be proud of, and that includes the recent expansion into Burleson.
The Ol' South team had already begun construction on their new Burleson location when Covid really hit. Like the rest of the world, the construction came to a complete stop. "Nobody had a global pandemic in their business plans. We really had to analyze what was happening and make decisions day by day. I would argue that while everyone was hit incredibly hard, the hospitality industry really took a brutal beating during this time." There came a point where they had to make the financial decision to continue to build, but now they found themselves building a restaurant in a whole new world, and they would be operating in an entirely unknown business climate. "Unfortunately for us that meant continuing forward and opening in the midst of the pandemic, offering a service at a completely different level than we ever would have accepted before. We have certainly suffered and have worked tirelessly striving to meet our own expectations."
It is no secret that the last couple of years have made operating a business nearly impossible. What is refreshing is when a business can openly admit that there is room for improvement and share just how diligently they are working to improve and meet their own very high standards. "We have a high standard of customer service that we have set for ourselves, and we've had to make many changes and explore new avenues that we never would have before in hopes of staying alive in this climate. It's been a very tough road, but we are still here, thanks to this community." It is clear that the Ol' South team genuinely loves Burleson and that they are working hard to not only stay here but to get back up to the high standard that they expect, a standard Rex simply calls 'The Ol' South Way'.
"One thing these last couple of years in business have taught me is that there are things in your control and a lot of things out of your control. I've always thought I was in control of a lot more than I really am, and you just can't dwell on the things that you can't control or you will go bonkers. My ability to recognize the difference has certainly sharpened over the last couple of years."
Even today you don't have to look far to recognize that there is still a massive labor shortage, and the current economic climate has forced many of us to consider new lines of work. In fact, unlike the Ft. Worth location which is open 24 hours, the Burleson location is currently only open until 10:00 pm, and some days that time is a real fight to get to, due to the staffing shortage. "We lost a lot of experienced hospitality workers over the last couple of years. At the time of our opening, we were in what I would call a catastrophically low state of experience." Trust is important to a family-owned brand, and Rex stressed that they won't slow down until they are able to offer a consistent standard of service across both locations. "Consistency between our locations is what we are striving for. We are working hard every single day to achieve that and bring the Ol' South way to Burleson."
Another battle they have been fighting has been the supply chain shortages that we all seem to have been noticing, and if you've been lucky and haven't noticed yet, you might begin to soon if you are in the market for a Thanksgiving turkey this season. "Our suppliers have all been warning us about the lack of turkeys this year. They have told us that it's coming so we have worked tirelessly to try to prepare for that. Luckily, it seems like we will have enough to serve our annual Thanksgiving Dinner this year, but I would certainly encourage everybody to get their orders in as soon as possible. We want to be able to serve as much of the community as possible, but we can't if you don't get those orders in."
The last couple of years have changed the way most places have done business, and for Ol' South Pancake House that has meant exploring options that might've been closed before, such as expanding to-go and catering services. Online ordering seems to have become all the rage since the pandemic and Ol' South Pancake House offers that convenient option as well. The Burleson location also has a great enclosed patio available, where they have the ability to host private parties or business functions. They also have a food truck available for another fun catering option. Pancake and pajama parties have become quite the hit for kids' birthday parties. It's a delicious and fun easy button to consider should you find yourself planning an event. Ol' South will do the set-up, cooking, and clean up for you, making it as much of a no-stress option as possible. They aim to take the hassle out of catering while offering a variety of price points that can be appealing to all levels of budgets.
A solid budget seems to be more important than ever these days, and Ol' South is not immune to those budget busting inflationary prices that we are all experiencing. Rex mentioned as an example that the same coffee mugs that used to cost about $1.50- $2.00, are now costing them anywhere from $5.00 – $6.00 a piece. The cost of a pack of bacon has more than doubled, as has the costs of most of their other important and frequently used items. "We aim to bring quality at a fair price. It seems like everything is still working against that goal, but we are still here trying our absolute best. It's the Ol' South way."
"These last years have taught me a lot and have certainly re-invigorated my creative processes. We are working to find the balance between consistency with the brand people know and trust and also experiment with new flavor profiles and other exciting new options. Have you met Bella yet?" Bella is the new robotic food runner that the Burleson location has had the pleasure of working with for the last few months. "The servers love her. They simply take the food off the expo-line, input the table number and she will play music as she delivers the food to your table. It's quite the spectacle! She will also stop and sing Happy Birthday to you. She came to us as a marketing piece but the kids and the servers love her. She certainly can't replace our incredible team members so I do hope nobody reads too far into it, but she gets people talking and she is very helpful with today's labor shortage. She has a banner that runs across her back that reads 'I am here because we are hiring.'" If you are looking for work and interested in applying to Ol' South Pancake House, they are hiring for all positions and looking for good, happy and energetic people who are ready to work.
"These last few years have been so tough, ultimately we are just so thankful to the Burleson community for helping us survive. We are relatively new here and they have already rallied and supported us through the thinnest of times. We want our community to know how thankful we are, and that we are here for the long haul. We are ready to be put to the test and we hope to earn your trust, just like we have earned the trust of our Ft. Worth community for the last sixty years. We are here Burleson. Thank you so much."
---
Ol' South Pancake House
225 E Renfro St, Burleson, TX 76028
T: (817) 989-9090
olsouthpancakehouse.com