by Jessica McElroy
Photos by Brooke Mathis: Beautiful Evolutions Photography
In today's financial landscape, where large national and multinational banks seem to dominate the industry, locally owned community options like First National Bank of Burleson offer a refreshing alternative. When you choose First National Bank you are choosing to bank with a team that not only provides numerous benefits for their customers, but also one that is deeply rooted to our community. Their commitment to community development and growth is not just lip service – it is a part of who they are. As a result of that commitment, First National Bank has become an integral part of our Burleson community.
Part of what makes our community so unique is the fact that our local businesses still prioritize connection and service, even with the significant growth we have experienced. The family owned and operated businesses here have a special place in our hearts, as their own personal ties to this community typically translate to more commitment and passion behind their services. First National Bank of Burleson is the perfect example of that. Locally owned and operated for 42 years, they are the only Burleson chartered bank – making it truly locally owned and operated. With two locations to choose from, one on Wilshire and the other on Alsbury, they are continually working to ensure every decision made fosters financial well-being for community members and businesses alike. It's a simple yet profound sentiment emphasized by Adam Russell, who serves as the Executive Vice President and CFO, "We just take care of our customers and take care of our community. That is our focus."
Over the years, First National Bank of Burleson has built a reputation for being a reliable, trustworthy, and accessible financial institution. Their personalized approach and willingness to go the extra mile sets them apart from larger banks who don't always have that same freedom to do so. Whether customers need assistance with their personal accounts, are seeking financial advice, are looking for competitive loan options, or want to show support for local initiatives, the team at First National Bank is there and ready to assist.
One of the primary advantages of a locally owned community bank is the personalized service they can offer. Clients at larger banks can often feel like they are merely seen as account numbers, or as though their needs are simply not understood. Community banks are able to prioritize building strong relationships with their clients, and can really take the time to understand their unique needs. They also have more freedom to offer customized financial solutions. The personal, client-focused approach practiced by First National Bank has built a deep sense of trust amongst their clients, strengthening the bond between the bank and this community.
When you partner with a locally chartered bank you are supporting an institution that makes decisions locally. First National Bank understands the unique characteristics and challenges of our community, because they are a part of our community. Decisions regarding loans, investments, and other financial matters should be made locally by people who have a vested interest in the community's success. That same level of interest simply cannot be replicated by larger banks who don't have the same ties to the area as their clients. This is where First National Bank of Burleson stands apart from the competition, as they are able to place the needs of the individual in front of them and the local community at the forefront of their decision making. Their unwavering dedication to serving Burleson and its residents has been the cornerstone of their success for over four decades.
First National Bank of Burleson takes pride in offering a comprehensive range of financial services tailored to meet the diverse needs of its customers. Whether individuals or businesses, the bank strives to provide personalized solutions that empower its clients to achieve their financial goals. For personal banking needs, First National offers a wide array of options. From checking and savings accounts to certificates of deposit and a one of a kind First Response Account for all active-duty law enforcement officers, firefighters, military personnel, and first responders, they provide the essential tools for managing personal finances effectively. With online and mobile banking services, customers can conveniently access their accounts, make transactions, and track their financial activities from the comfort of their homes or while on the go.
Businesses in the Burleson community also benefit from the bank's dedicated business banking options. These include business checking and savings accounts, merchant services, and cash management services like wire transfers and vault services. Moreover, the team there understands the importance of supporting business' growth and expansion. Through business loans and SBA loans they provide access to capital, helping entrepreneurs bring their visions to life and driving development within the community. When it comes to personal and business financing, they also offer a range of loan options. From auto loans to personal loans, customers can secure funds for purchasing vehicles, debt consolidation, or meeting other personal needs.
To assist customers in making informed financial decisions, First National Bank of Burleson also provides convenient online financial calculators. These tools empower individuals and businesses to estimate loan payments, calculate savings goals, and explore other important financial scenarios. By offering these resources, the bank aims to empower its customers to make sound financial choices, but of course they have an incredible team willing to assist with those decisions should their clients prefer a collaborative approach.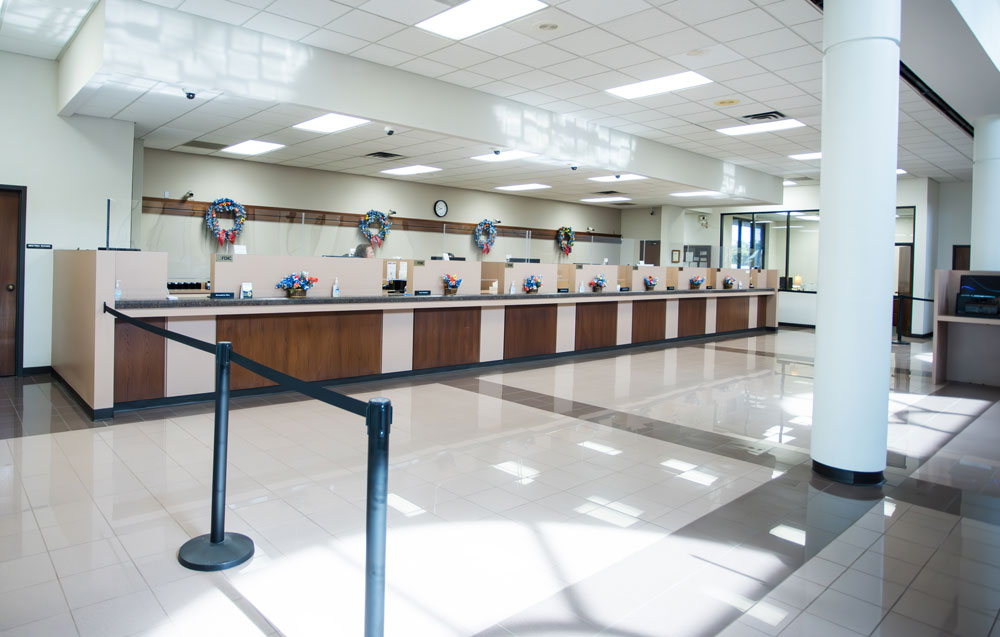 As a community focused financial institution, First National Bank plays a vital role in fostering economic development within the Burleson community. They have deep rooted expertise in specific industries that are relevant to our local economy. This specialized knowledge can be invaluable for local entrepreneurs who are seeking guidance. Whether that looks like navigating a complex regulation, securing a business loan, or simply managing their cash flow, First National Bank takes the time to provide tailored advice and support. They act as trusted partners, helping local businesses thrive and grow.
Despite their smaller size compared to larger banks, community banks offer a stable and secure banking experience that instills confidence in their customers. While they may not have the same scale of operations, these financial institutions are subject to the same stringent oversight and deposit insurance protection as their larger counterparts, ensuring the safety and security of customers' deposits and investments. This regulatory framework provides a solid foundation of trust and reliability for clients of First National Bank of Burleson, assuring them that their financial assets are well-protected. First National Bank of Burleson is rated by Bauer Financial and consistently earns 5 stars, the highest rating available. This rating ensures customers can feel secure with choosing First National for their financial needs. Between this reliability and the team's determination to build relationships and foster trust with their clients, First National Bank creates an environment where customers feel safe, valued and understood.
Contrary to the common belief that larger banks offer the best products and services, community banks often stand out in terms of competitiveness and customer-centric offerings. First National Bank of Burleson strives to provide a range of highly competitive interest rates and fees, aiming to surpass the offerings of their larger corporate counterparts. However, what truly sets them apart is their genuine commitment to building strong relationships with their clients, allowing them to provide tailored solutions and unparalleled support, particularly during challenging financial situations.
In addition to their competitive offerings and personalized approach, community banks contribute significantly to the local economy. They reinvest their deposits back into the community through loans to local businesses, supporting economic growth and job creation. By choosing a community bank like First National Bank of Burleson, clients actively contribute to the prosperity and development of their local community. Aside from the financial support and services the bank offers to this community, you would be hard pressed to find a local organization they have not supported over their 42 years of operation. From supporting Harvest House, Meals on Wheels, Rotary Club, Burleson Opportunity Fund, Athena Society for Burleson, Heart for the Kids, and many others, the team at First National Bank tries hard to support as many organizations in our community as they possibly can. "We just want to take care of everybody. It's a real family environment here and that is a feeling we work hard to extend to our community as well."
First National Bank of Burleson proves that size does not dictate the quality of products and services. With their competitive offerings, commitment to building genuine relationships, and willingness to support clients through challenging times, the team here demonstrates time and time again that they can provide customized solutions and a level of trust that exceeds the capabilities of larger financial institutions. By choosing First National Bank of Burleson, you can experience a truly personalized and rewarding banking experience while actively contributing to the growth and well-being of our local community.