by Jessica McElroy
Photos by Brooke Mathis: Beautiful Evolutions Photography, and courtesy photos
​
If you have been in the Burleson area for any length of time, chances are high that you know Dr. Andre Le and his team at Vision Plaza. They have served our community here for over 19 years, and during those nearly two decades they have earned the trust of their patients time and time again by providing top-notch comprehensive eye health and vision care services, while maintaining a personal approach with each client.
The Vision Plaza team began their journey with a mission to provide vision care services to the community, and Dr. Le's commitment to staying at the forefront of medical advancements ensured that his clinic swiftly gained a reputation for its accurate and personalized patient care. Recognizing that eye health encompasses so much more than just visual acuity, the clinic expanded its list of services to also address eye emergencies and various eye conditions, from the standard glasses and lenses services to support for more complex ocular diseases such as glaucoma, macular disease, diabetes, and dry eye conditions.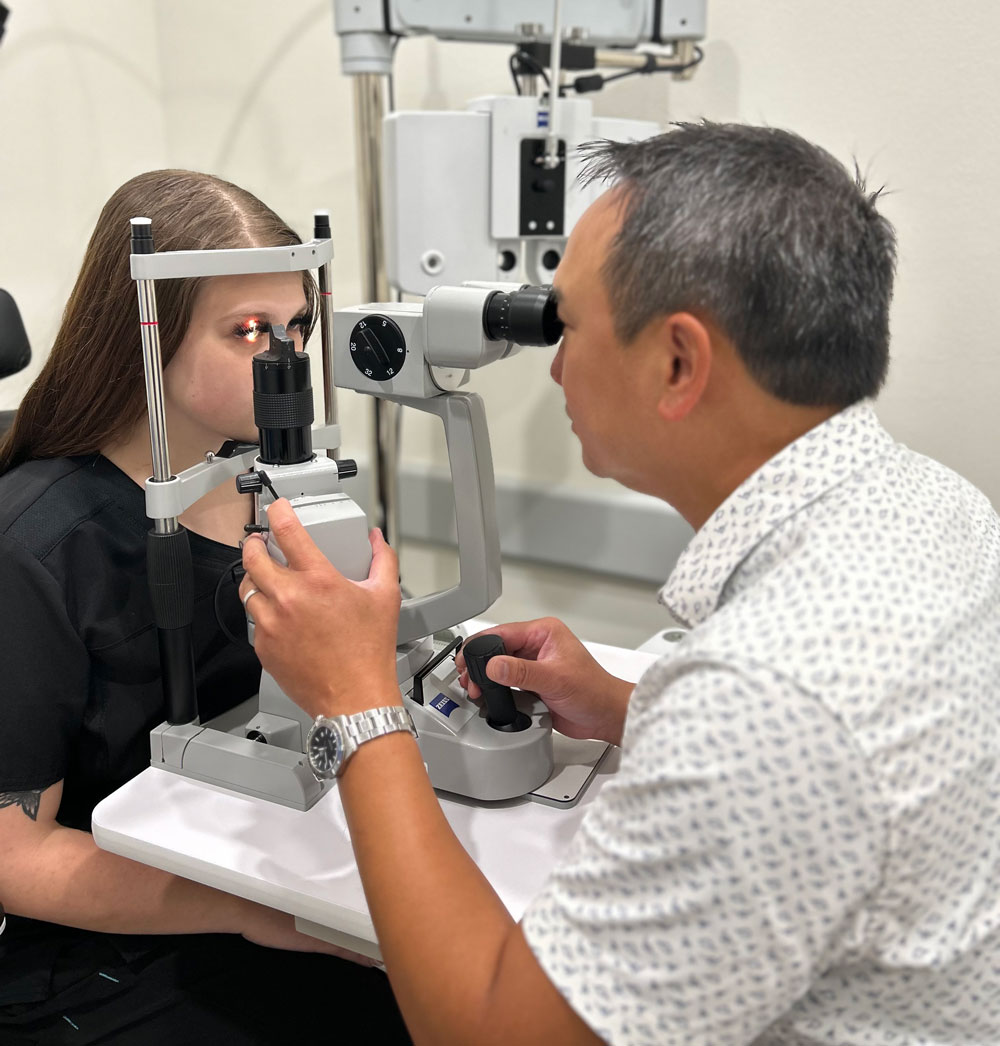 As the clinic has thrived and built patient trust over the years, Dr. Le saw an opportunity to merge his medical expertise with aesthetic artistry, in an effort to meet the growing demand for such services in the safest of ways. The emergence of ocular aesthetics has inspired the expansion of the clinic's offerings beyond traditional eye care yet again. This strategic move is marking the beginning of an exciting new chapter for Vision Plaza that has the potential to change how individuals perceive both their eye health and appearance.
Aesthetic eye care once might have been primarily associated with cosmetic enhancements, and while that is a valid reason for many to seek out this level of care, it has since transcended its traditional boundaries to also address a range of eye health concerns. One such application is its role in assisting those who suffer from dry eye issues. Dry eye syndrome can be more than just irritating to those who live with it. Due to insufficient tear production or even poor tear quality, these individuals can deal with discomfort, irritation, and even compromised vision. What many don't know is that there are more options than consistent use of artificial tears or medication, many of which can cause difficult side effects with long-term use. By integrating ocular aesthetics and dry eye management, we have an innovative solution that can not only enhance aesthetics, but promote overall ocular comfort and health in a safer way that is less toxic to the system and provides longer-lasting results.
Incorporating ocular aesthetics into dry eye management signifies a paradigm shift in eye care, and it's a shift that Vision Plaza is excited to bring to our community. With this collaboration of beauty and wellness, individuals are not only able to experience physical relief, but also gain a renewed sense of confidence and comfort. And for those who are seeking aesthetic services, who better to perform them than those who know exactly how to protect your eyes in the process? While there are many good MedSpa teams out there, they often do not have the same knowledge and certainly not the same level of experience to truly support and protect your eye health while performing services around such a sensitive area.
Dr. Le credits his team for the high level of patient care and innovative approaches they are able to offer each patient that walk through their doors. A cohesive team ensures seamless patient care, from accurate diagnoses to personalized treatments, and the Vision Plaza team is growing. Dr. Scott has recently joined the team and is excited to bring his knowledge and passion together with Dr. Le's established record of care and expertise. Having a well-rounded team drives efficient operations, can offer a collaborative approach for diverse eye conditions, and also enhances the overall patient experience. Having the right team is the bedrock of exceptional care, and is a major contribution to Vision Plaza's continued success.
Earning and maintaining trust with each patient is a responsibility that Vision Plaza does not take likely. They know that trust serves as the cornerstone of a successful patient-practitioner relationship, and through open and honest communication and high-level care, they aim to not only enhance the comfort of each patient while in the office, but create long-term relationships in the process. Building these secure relationships with their patients allows them to support continuity of care, which can not only ease the burden on the patient, but also more accurately monitor changes in their eye health over time. This allows them to detect issues at their earliest stages, and implement timely interventions that can support better outcomes. By prioritizing trust, Dr. Le's team has created an environment where patients feel supported, empowered, and confident in their pursuit of optimal eye health.
Beyond their impressive services, Vision Plaza has endeavored over the years to truly become the quintessential hometown eye health office, and has ensured they are as involved with the community as possible. "It's more than just taking care of those who trust us with their eye health, we want to take care of the community as well. It's our home." Dr. Le's team conducts eye care outreach programs, providing free screenings and other eye care services to as many as possible within our community, but especially within the school system here. Dr. Le has also served on the Chamber of Commerce as well as other various local organizations, and he sponsors as many local teams, clubs, and events as possible, as well as many efforts by non-local groups. Their commitment to each patient as well as the community at large has paid off time and time again. Vision Plaza has won every Local Loves they've been nominated for, and reviews of their services speak for themselves.
Vision Plaza has evolved from its modest beginnings into a beacon of innovation and compassion. Dr. Le's unwavering dedication to advancing eye health and his keen eye for merging medical science with aesthetics have paved the way for what we are sure will be a continued success story. As we celebrate the clinic's journey from vision care to comprehensive ocular wellness and now to aesthetics, we are reminded that innovation can co-exist with community values and service. With this new venture, the Vision Plaza team aims to continue transforming lives, one pair of eyes at a time.
You can find a comprehensive look at the many services Vision Plaza offers at their website www.myvisionplaza.com.