The Catch is a start-up that was birthed from a desire to bring "made from scratch, hand battered, made to order, fresh seafood" back to people's plates. Patrons of The Catch know they have accomplished their goal. The Catch was started three years ago in Tyler Texas, in November 2015, by friends David Weaver and Scott Nordon. The Burleson location opened in September of 2016. This was the first DFW location for Chris and Andra Fleming, and the fifth location in the company. The group of friends started with the idea that seafood without preservatives and made fresh daily would resonate with taste buds of our customers. It absolutely has as there are currently 20 locations across Texas and Oklahoma with three under development. Chris and Andra currently have three locations: Burleson, Watauga/Keller, and Arlington. They have two locations under construction in Mansfield at HWY 287 & FM 157 (opening in January 2019) and in Irving at North Beltline Rd & Rochelle (opening in April 2019). The customers can taste the difference in their homemade food and continue coming back for more.
If you have eaten at The Catch, you know that they have hit the mark on delivering made from scratch, homemade, fresh seafood. They offer the traditional southern favorites such as catfish, shrimp, whitefish, oysters and more. They have outstanding tacos, po' boys and salads and options for the those not wanting seafood that day. Come during crawfish season and get the traditional crawfish boil. The meals are complimented with an excellent menu of freshly made sides and appetizers. They make homemade tartar and cocktail sauces that are exactly what a good seafood restaurant should have. They even have complimentary beer and margaritas!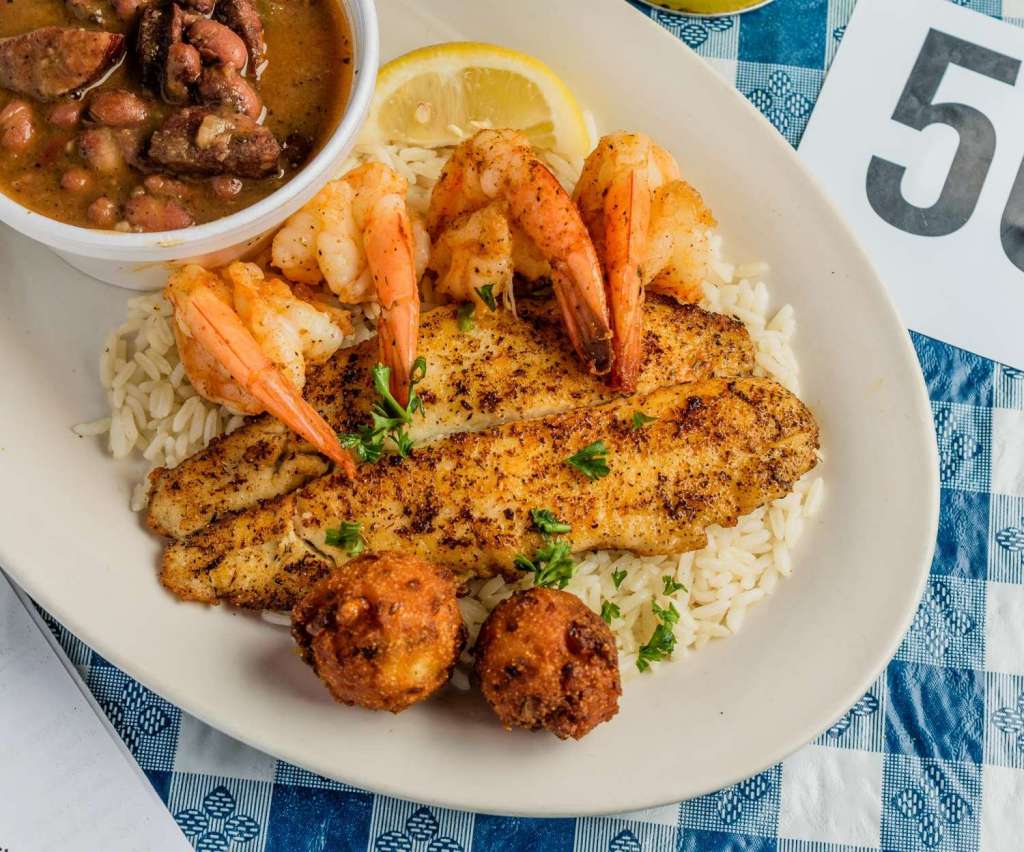 The atmosphere is described as fast-casual. It makes for a great eating spot for families or gatherings with friends. You don't have to wait long for your food, but do not be fooled into thinking it is fast food seafood. The meals are made to order and freshly prepared.
The Catch in Burleson is a locally owned and run business. The Flemings do more than just have a business here. It is where they live, raise their family and are a part of the community. Andra is a teacher in the Burleson Independent School District and their kids attend or have graduated from BISD schools. The Catch is very involved with the local schools and youth programs. They partner with local schools and youth organizations and sponsor give back nights where they give a percentage of all sales on their night back to the organization. They also love to give out gumbo cards and certificates based on their budgets. Chris describes the people of this community as being his favorite part of doing business in the Burleson/Crowley/Joshua area. "We just have great people, families, schools, and churches in these towns that make serving them so easy and rewarding."
The Catch stands out for many reasons, including their quality and exacting standards. Beyond that, the people who make up The Catch make the biggest difference. When speaking of his team, Chris says "we are blessed to work with some great people that live our standards day in and day out to ensure we have top notch food and a people first mentality."
–
THE CATCH
1505 SW Wilshire Blvd, Ste 610
Burleson, TX 76028
(817) 447-4302
thecatchusa.com