No more winter freezes! Overcoming a pandemic together! iKids is back in full force and guarantees a remarkable experience!
You'll be treated like royalty at Burleson's own nationally recognized pediatric dental office. Known nation-wide for its customer service and known throughout the metroplex as THE cosmetic dentists for kids, iKids makes happy teeth with a whole new dental experience. It all started with Dr Randy Hamilton who was soon joined by his two younger brothers then a family friend, to form the perfect team. Talk about harmony!
Locally born and raised in Cleburne, TX, Dr Hamilton opened iKids Pediatric Dentistry in November of 2009 with a dream of bringing a dental experience to children never before seen in the health-care industry. With the help of his brothers, Dr Blane and Dr Ross, this dream came to life.
Wanting to step away from traditional dentistry, iKids embraced no closed windows, no waiting rooms, but reception areas; no patients, but guests; no employees, but cast members. Parents were given backstage passes into the treatment rooms, ultimately creating a dental experience like no other where you'll be greeted by every person you see as they care for your children.
Meet the Docs:
Dr. Randy Hamilton
"The moment you doubt whether you can fly, you cease forever to be able to do it."
Dr. Randy Hamilton proudly served his country in the US Air Force before specializing in pediatric dentistry. He founded iKids on the premise that every child deserves a remarkable dental experience. "I like to imagine each child wearing a sign reading, 'Make Me Feel Special'," he said. An award-winning, board-certified pediatric dentist and diplomate of the American Board of Pediatric Dentistry, Dr. Hamilton has special training in dentistry for special needs children providing every child a dental home where they can feel a sense of normalcy.
He's one of the few pediatric dentists in Texas certified in both oral and IV sedation, ensuring even the youngest or most anxious child can have a calm and positive experience. Dr. Randy and his family make Mansfield their home, where he's active in his church and community, coaches basketball and plays various sports. A lecturer and published author, Dr. Randy offers parents insight in his book, Grin and Bare It; A Parent's Guide to Little Teeth.
Dr. Blane Hamilton:
"I'll teach you how to jump on the wind's back, and away we go!"
Dr. Blane Hamilton loves working with his brothers at iKids. He earned his DDM degree from Nova Southeastern University's College of Dental Medicine in Florida and completed an additional two years in pediatric and adolescent dentistry at Temple University Hospital's Pediatric Dental Residency Program in Philadelphia, including advanced training in conscious sedation and special needs care. He's a diplomate of the American Board of Pediatric Dentistry, a member of the ADA and the American Academy of Pediatric Dentistry.
Dr. Blane is active in his church, loves spending time with his wife and four boys and enjoys coaching youth sports, riding his bike, playing various sports, and spending time outdoors.
Dr. Ross Hamilton:
"Dreams do come true if only we wish hard enough."
As a father of two boys and one being special needs, Dr. Ross understands your children are your most precious asset and the challenges of parenthood. His goal is to provide high-quality care and a great experience for his patients. With a focus on preventive care, he wants parents to understand all their options, when it comes to little teeth. He graduated Summa Cum Laude from Southern Utah University, and completed his DDS degree at the prestigious Baylor College of Dentistry. Dr. Ross is certified in oral conscious sedation and, like his brothers, stays on the leading edge of his field through continuing education courses. Dr. Ross is a member of the ADA, TDA, and the Fort Worth District Dental Society. The Hamiltons' recently just finished filming a reality tv show called "Nine Months By Courtney Cox". Don't miss it!
Dr. Leavitt:
"Never say goodbye because goodbye means going away and going away means forgetting."
Dr. Aaron Leavitt moved to Texas from Florida with his wife and children to join the iKids family. Dr. Leavitt graduated from Brigham Young University and received his DMD from the University of Florida. He served in the United States Navy, where he received specialized training in dentistry. He's excited to be a part of such a great team. Dr Leavitt brings 20 years of dental experience and most of all, he knows how to have fun!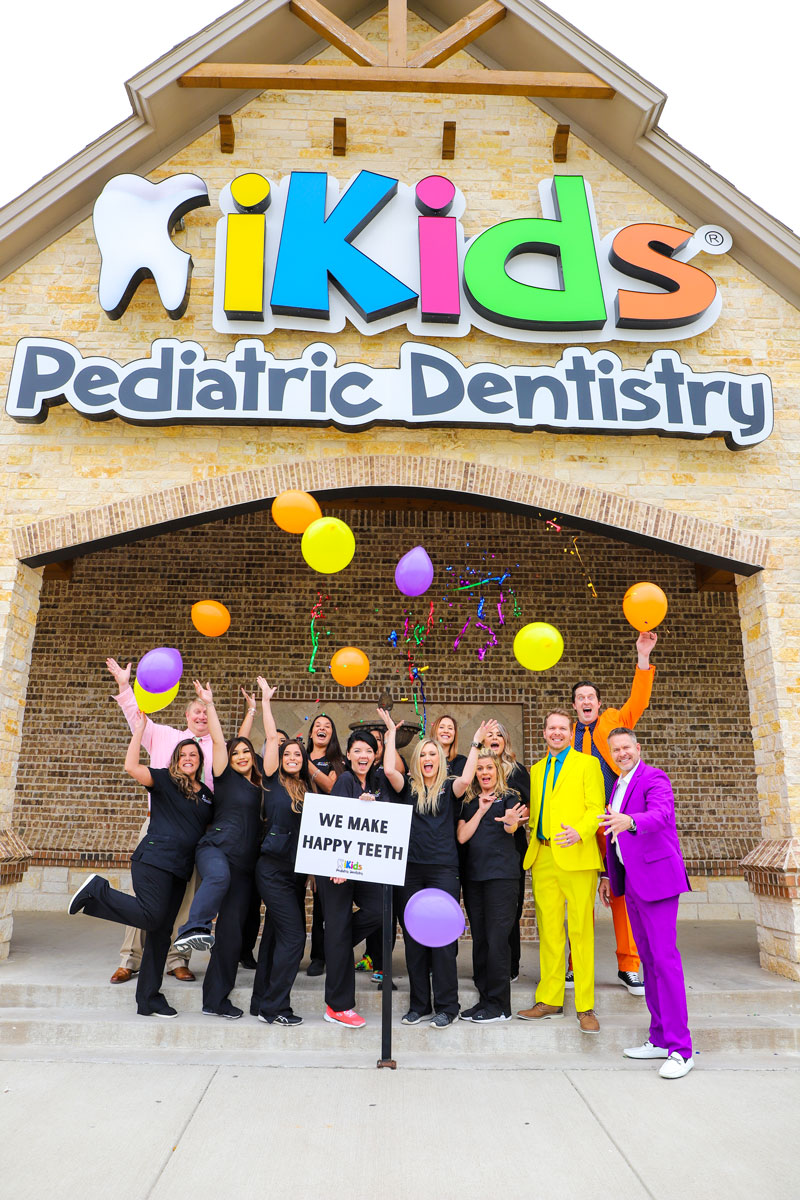 ---
A Letter to Our Families
First off, we appreciate all the patience and understanding as we continue to do our part to protect our guests and our team with continued wearing of masks. We know this has not been easy on everyone and try to accommodate when we can.
When we fail to meet our mark, we will be the first to admit it. At iKids Pediatric Dentistry, we have always strived for perfection. Our guests, our kids, and the parents of our kids are what's most important to us. This pandemic has created many issues with many of our local businesses. iKids was not immune. While we had our struggles, we luckily made it through but not without upsetting some of our guests through difficulty with scheduling and getting through to our office because of our limited team.
We are here to let you know we have listened and heard your concerns and frustrations.
Our Mantra has always been "Always do your best, then try to trump it." We came to Burleson because the three Hamilton brothers grew up around this area. We wanted to give back to the community around which we have so many remarkable memories.
We established and founded iKids on the premise that we wanted to create the ultimate Health Care experience and to set the standard for Customer Service in the dental field.
iKids is more than just dentistry. The iKids Way- you cannot come within 10 feet of an iKids cast member without receiving a smile, eye contact and a hello or good morning, unrushed appointments with as much personal attention as you need, schedule same or next day appts, coordination with other specialists in our community, and 24-hour emergency service.
The Hamilton brothers are committed to giving you the ultimate satisfaction at our Burleson location.In fact, if you are not happy with your experience, the CEO will personally reach out to you upon your request.
Since 2012, iKids has been a part of the Burleson Community. We love this city and the people in it. We look forward to meeting you and taking care of all of your children's dental health care needs.
Highest Regards,
Randy Hamilton, DMD
Blane Hamilton, DMD
Ross Hamilton, DDS